Home » Home » Language Schools »

European School of English (ESE)
European School of English (ESE)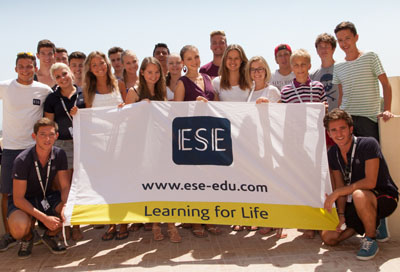 ESE has been offering quality General English, Business English and exam preparation courses to students of all ages from all over the world since 1996 – that's over 15 years of experience in the field of quality language travel.

We are proud of our quality standards and equally proud of our staff and we will do our utmost to make sure that you have a successful language learning experience with us.

Our teaching staff, who come from different English-speaking countries, are qualified and follow regular teacher development programmes.
Our welfare and leisure staff is professional and friendly and will offer you 100% support and quality service throughout your stay.

We offer a range of accommodation options with excellent facilities which you can choose from including: ESE Residences, ESE apartments, host families, guesthouses and hotels.

Our school is modern, equipped and finished to high standards. Classes are bright, spacious and fully air-conditioned, making ESE an ideal learning environment. Wi-Fi is available for free throughout the school building for all ESE students.

ESE school is located in central St Julians – just a few minutes away from the entertainment hub in Malta and a short bus ride away from the commercial centre of Sliema.

Free access to our e-learning programme allows you (adults and closed group students only) to combine face-to-face teaching with online self-study from the moment you book your course till 3 months after your course is over. This is a great tool to help you to determine your own study plan, focus on the skills you need most, work extra exam practice papers for that upcoming English exam, or choose topics that are of interest to you at your language level whilst monitoring your own progress.

By blending face-to-face teaching with online self-study, you reach your learning goals quicker. The online learning programme allows you to work at your own pace after school hours and frequent use teaches you how to take responsibility for your own learning. Our teachers give you regular tutorials on how to use the e-learning site as well as tips on how you can maximise your learning experience through this blended mode of study. It's all about learning for life.

Your language learning experience isn't confined to the classroom. Your ESE social experience gives you more opportunities to practise English in a real-world context and to process language in real time. By joining ESE-organised social activities, you are immersed in an English speaking context with endless opportunities to interact with other multilingual language learners like yourself and make new friends. You can continue to practise your core skills and interact with other ESE language learners by networking socially online and chatting to others through our ever-growing Facebook database of fans.

Studying at ESE means learning for life from an experience you choose to shape… Our Team is here to welcome You!

ESE is an accredited Trinity examination centre for GESE (Graded Examinations in Spoken English) and ISE (Integrated Skills in English). Teachers are trained by Trinity to deliver GESE and ISE examination courses in preparation for the exams.

Small classes ensure that you are given personalised attention, feedback on your progress and numerous opportunities for interaction with your teacher.

At ESE we have an open door policy so our Director of Studies and Academic managers are always available to discuss any academic concerns you have. After lessons are over, one of our experienced Learning Support teachers is available in the library to assist you with any advice or guidance you may need.